Amp Energy and Distributed Sun Partner on over $100 million of NY Community Solar Projects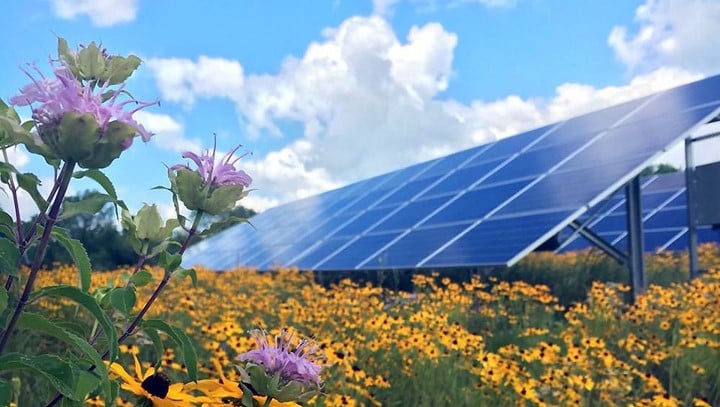 NEW YORK, August 19, 2021 - Distributed Sun (DSUN), a leading developer of community solar, and the largest CDG developer in New York state, partners with Canadian based Global Energy Transition Platform Amp Energy (Amp) to finance 70 megawatts of projects in upstate New York.
DSUN and Amp initially partnered in 2020 at the early stage of project development, when few infrastructure investors quantify purchase values. The partnership secured reliable operating pipeline for Amp at known costs while DSUN accurately valued its development assets with transaction efficiencies.
By identifying, planning, and funding projects, Washington DC-based Distributed Sun is developing over 200 MW of community solar in New York. With a majority of that clean power now operating – DSUN is helping the state achieve its climate and sustainability goals while improving the resilience and quality of the upstate grid. DSUN and Amp investments help farmers keep their land, help utilities strengthen the grid, create thousands of jobs, and establish long-term support for school and local budgets.
"Structuring collaborative development partnerships like this one is something that Amp prides itself on being able to do well across the US" said Jared Donald, EVP, Head of USA for Amp. "DSUN's expertise and prior success in NY, and across the US, gave Amp the confidence it needed to invest early into DSUN's projects in NY to support this partnership."
"Our success in community distributed generation stems from listening to all stakeholders from farmers and their neighbors in the towns they call home to utilities and the customers we often share with them," said Jeff Weiss, Executive Chairman and co-founder of Distributed Sun. "Amp is an excellent partner. They share our values and are very skilled in advancing these projects at scale."
Distributed Sun develops, builds, owns and operates solar power and storage assets nationwide, employing a deeply analytic approach attuned to making renewable power infrastructure work. DSUN blends knowledge of energy markets, capital markets, regulatory requirements, utility interconnection, landowner preferences and local political needs.
Mr. Donald said Amp is eager to expand its commitment to Distributed Sun as opportunities arise. DSUN is rapidly growing its large corporate and utility practices – with 500 MW of large-scale renewables under development including new solar, storage and charging kiosk facilities in Arizona, California, Colorado, Georgia, Nevada, New Mexico, New York and Virginia.
About Distributed Sun
Distributed Sun is regarded as one of the most capable US solar owner-operator-developers. DSUN has participated in most counterparty roles of solar finance transactions – as developer, sponsor investor, tax equity capital, asset manager, and due diligence advisor. DSUN has also delivered clean power to nearly every customer type – schools, universities, assisted living, hotels, data centers, utilities, homeowners, distribution facilities, commercial offices, and more. DSUN expertise includes guiding large organizations along the energy transition, helping member of C-suites, boards and other key decision-makers align ESG goals with their brand and bottom-line. DSUN helps F500 clients deploy renewables on- or near-site, plan ICE to EV fleet conversions, and integrate other facility-based carbon mitigation solutions. DSUN sells clean power (solar, wind) with smart energy (batteries, software, controls). If knowledge is power, we more accurately sell knowledge-enabled power, or smarter clean power. DSUN continuously aggregates and analyzes terabytes of data on the electricity grid to better understand customer risks and rewards and share this knowledge freely to our customer's advantage.
For more information, please visit www.DistributedSun.com.
About Amp
Amp is a global energy transition platform.
We develop, own and operate clean energy assets throughout our core markets around the world, alongside Amp X, our disruptive grid-edge technology platform utilizing proprietary artificial intelligence expertise.
The company is headquartered in Toronto with global operations throughout the US, Canada, Australia, Japan, Spain, Czech Republic, UK and India. Founded in 2009, Amp is a high-growth disruptor at scale, backed by major investments from institutional capital partners including most recently the Carlyle Group, which invested US$374 million into the company in late 2020.