Amp Closes Landmark Tax Equity and Debt Financing for Community Solar Portfolio with KeyBank and US Bank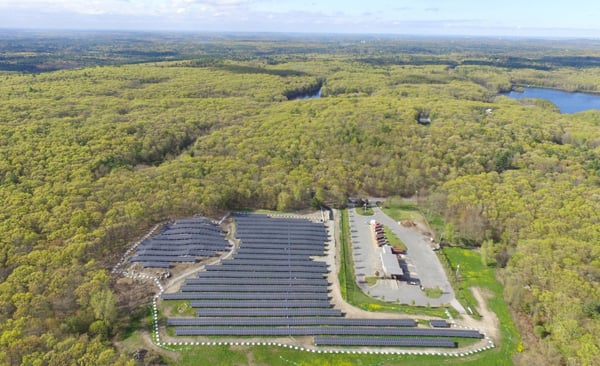 The Massachusetts-based portfolio, valued at approximately $100M, holds some of the first non-residential DC-coupled solar + storage systems to be successfully financed in the United States and marks Amp's first solar + storage project financing

The 4 projects under the portfolio will be the first in the US to be dispatched by Amp's proprietary digital energy platform, Amp X, using its VPP trading platform.

Amp's next US portfolio, moving into construction in Q1 2021, includes >100 MW of solar projects paired with >50 MWh of DC-coupled energy storage across Massachusetts and New York.
Denver, CO – September 24, 2020 – Amp, a global renewable energy infrastructure platform company, today announced it has closed financing on its 29.4 MW | 42 MWh Massachusetts Community Solar portfolio, valued at approximately $100M. KeyBank will provide construction and term debt, with US Bank investing the tax equity for the portfolio.
The 4 projects under the portfolio will be the first in the US to be dispatched by the Amp X trading platform allowing the assets to autonomously optimize the battery output to maximize their fixed SMART program revenues while participating in the ISO New England wholesale markets and the Massachusetts Clean Peak Standard program.
The integrated design that includes DC-coupled energy storage, bifacial modules along with proprietary optimization and design, once again highlights Amp's emerging position as a leader in advanced technology.
Amp has signed offtake agreements with investment grade counterparties Lowe's and Hannaford grocers as anchors for the community solar projects, and is working with its long-standing partner BlueWave Solar to source the small offtakers for the projects that will reach commercial operation between Q1 2021 and Q2 2022.
"As the energy markets continue to evolve it is increasingly important for asset owners, like Amp, to employ these multi-variable optimization strategies to maximize project returns while ensuring the final solutions be fully vetted and bankable in order to attract institutional financing" said Jared Donald, Amp's SVP and Head of USA "I am really proud of the Amp team members who, through their deep understanding and diverse skillset, allowed us to achieve these two, often conflicting, goals and I'm very appreciative of our financial partners for their continued trust in Amp to deliver this solution".
"DNV GL is proud to be the independent engineer supporting the development of Amp's Massachusetts-based portfolio of projects which are among the first non-residential DC-coupled solar + storage systems to be successfully financed in the United States. This project demonstrates the technological and business model innovations occurring in the midst of the energy transition we are witnessing across the entire power sector," explained Richard S. Barnes, Region President, Energy North America at DNV GL.
The US operations of Amp, formed in 2016 and headquartered in Denver, CO, saw its real assets business surpass 150 MW of operating and in-construction assets this year, with a further 500 MW to be built over the coming 2-3 years. The team ended 2019 having acquired and developed an additional 80+ MW of solar projects, paired with more than 69 MWh of energy storage in Massachusetts and New York.
Despite the on-going uncertainty surrounding COVID-19 and the impact it is having on businesses around the world, Amp is continuing to grow its US team and support its developers. The team recently signed multiple New York-based transactions with experienced developers bringing Amp's total NY portfolio to more than 140 MW.
Here's what KeyBank and U.S. Bank had to say about the transaction:
"As a part of our continuing support for renewable energy, we are pleased to serve as Coordinating Lead Arranger and to provide capital for Amp Solar's portfolio in Massachusetts," said Andrew Redinger, Manager Director & Group Head, Utilities Power & Renewables at KeyBanc Capital Markets.
"We're excited to expand our partnership with Amp and grow community solar in Massachusetts," said Eric Barr, Vice President of renewable energy investments with U.S. Bancorp Community Development Corporation, the tax equity and community investments subsidiary of U.S. Bank. "Being responsible stewards of the environment is important to U.S. Bank and investing in solar is one of the key ways we can achieve that."


For Amp media enquiries:
Fraser Hall
905.271.7800 x238
About Amp
Amp is a renewable energy infrastructure platform company.
Founded in 2009, we have become one of the leading global renewables companies with a 1.5 GW proven track record of assets developed and built, alongside a further 2.0 GW and 2.2 GWh of assets in construction and late-stage development in our Real Assets division. With the addition of our fully-integrated flexibility division, Amp X, Amp has emerged as a highly differentiated and unique leader in the energy transition happening globally.
Based in Canada, with operations throughout North America, Japan, Australia, India, the UK and Czech Republic, our international team brings deep expertise and thought leadership to every aspect of the energy industry.
At Amp, we power change.